Broken wire/permanent retainer
Permanent retainers work great to keep your teeth aligned after braces or Invisalign treatment. A broken permanent retainer is something that can happen from time to time. Teeth will tend to shift if they aren't held in place. If the wire of the permanent retainer starts hurting your tongue or bothering you before you can get it repaired, you should reach out your orthodontist or emergency dentist to have it repaired in a timely manner.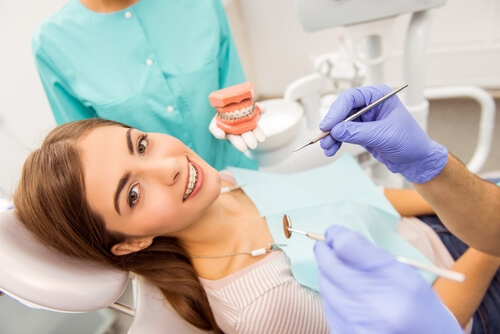 Fixing of broken permanent retainer at Emergency Dentist Edinburgh
The type of permanent retainer and which part of it is broken will determine how your orthodontist or Emergency Dentist Edinburgh can fix it. If the wire of the permanent retainer is still solid, but the composite has gotten too thin or come de-bonded from one or two teeth, the fix is a simple procedure. Your orthodontist or local emergency dentist will place new dental composite over the wire and bond it to your teeth.
If you have a broken permanent retainer that comes completely off your teeth, your Edinburgh orthodontist or Emergency Dentist Edinburgh can oftentimes take this same retainer and bond it back onto the teeth.  If this happens to you, it's a good idea to save the permanent retainer and bring it in with you to your appointment.
Accessing Emergency Dental Care in Edinburgh City
Emergency Dentist Edinburgh is an appointment based private dental service to help all patients get the high-quality care they need to feel better right away. Get in touch with us by phone or email and we can arrange an appointment with one of our caring and experienced dentists to assess your oral health.
Teeth shifting without wearing Permanent Retainers
Teeth will tend to shift if they aren't held in place. If a broken permanent retainer is not repaired after a few weeks – or several months – it is likely that you will see some shifting of your teeth. Those patients with a removable retainer that they wear over top of their teeth as a permanent retainer backup will not see much, if any, tooth shifting.  Having your removable retainer is a nice reinforcement for your permanent retainer and helps to make sure everything stays in its proper place.  If you have a removable retainer and you notice a broken permanent retainer, make sure to wear your removable retainer at least every night until you're able to get in and have your broken permanent retainer repaired.
Get started with a Dental Consultation
Emergency Dentist Edinburgh is one of the few dental clinics in Edinburgh providing Private Emergency Dental Services 7 days a week.